Guided tour of Rookwood Cemetery, including its most historic and captivating areas.
Visiting a cemetery as a leisure activity may seem a little bizarre, but Rookwood is remarkable for many reasons.
Apart from the many architecturally significant and impressive monuments and chapels, there is an estimated one million people buried or interred at Rookwood since 1868, and each one has a story to tell.
This fascinating tour:
Starts in the chapel with 3 short videos (Rookwood's Creation, The Railway, Rookwood's World War 1 and unmarked graves)
We then visit "American Stores" and its role in the Second World War. From here we go to the footings of Mortuary 1 Receiving House (Rookwood's Birthplace) and see how the various trusts ran the cemetery.
On to the Vault of John Fraser (largest in the Southern hemisphere) to which we now have access.
Martyrs Memorial, Serpentine Canal & its role in the cemetery.
The Circle of Love: a beautiful area that honours children buried in unmarked graves and the story of how it was discovered.
The Church of St Athanasios and its role in Rookwood
If we have time we will visit the Mausoleum of Eternal Rest.
Please note:
BYO vehicle – due to COVID-19, we cannot provide transport for guests in company vehicles.  There is quite a bit of walking on the tour, so comfortable shoes are a must.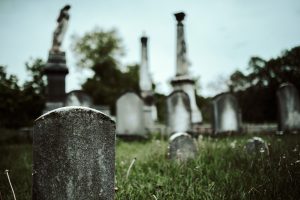 Tickets
Tickets: National Trust members $50, adults $55, children aged less than 5 years attend free.
Morning tea will be served at the conclusion of the tour, and is included in the price.
Pre-book your tickets via Eventbrite to guarantee your spot.
Enquiries
Contact Mary Goldsack via marygoldsack@optusnet.com.au