Rock Valley was home to three generations of the Green family, part of a diverse farming community that lived and worked in the Tidbinbilla area, from 1895 until the formation of the Tidbinbilla Nature Reserve in the 1960s.  The house and surrounds were almost destroyed in the catastrophic 2003 Canberra bushfires.
Many dedicated people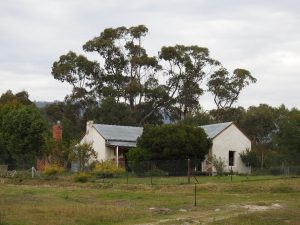 and groups, particularly the Tidbinbilla Pioneers Association, have worked to see the homestead rise from the ashes to portray what life was like for early settlers in the area.
You will be able to explore the homestead and surrounds and hear about the rich cultural history of Rock Valley and of the Tidbinbilla Valley in general from descendants of the original pioneers of the area.
This visit is a self-drive event so why not take a picnic lunch or barbeque and enjoy it in Tidbinbilla Nature Reserve before visiting Rock Valley!
Cost  (includes afternoon tea): $25 National Trust members; $35 non-members.
Book:   To book a place, email your details to info@nationaltrustact.org.au or phone Liz McMillan on 6230 0533 (office hours:  Tuesday-Thursday 9.30am-3pm)
Directions to Rock Valley will be provided when you book.  Please bring a chair if possible.