This exhibition will concentrate on works which include dogs and horses done by Norman Lindsay. He could depict with equal force the aristocratic arrogance of a thoroughbred and the resigned melancholy of a workhorse.
On many occasions Norman Lindsay accompanied the delivery boy from the Sydney Fresh Food and Ice Company to sketch the horses in the stables. The long-suffering lad would patiently hold up a horse's head so that Norman could perfect an eye or nostril. He visited Taronga Zoo frequently, observing and sketching a wide variety of animals. Many animals feature in his pictures, and he endeavoured to ensure that every drawing was accurate.
Lindsay's earliest subjects were family, friends and animals at Lisnacrieve, the Lindsay home in Creswick, Victoria. The family had fowl, ducks, cats and dogs which provided endless subject matter for his pencil. Even as a child he detested copying and always told enquiring adults that his drawing was done "out of my head'. The only known exception is Head of a Dog (1889) at age ten, which won first prize of two shillings and sixpence at the local flower show. This was his first fee for a drawing.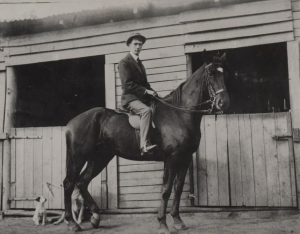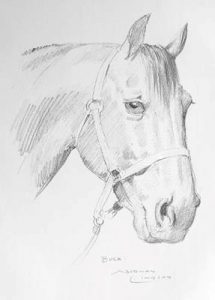 Images – Left: Norman Lindsay with his horse, Calpe. National Trust (NSW) archives. Right: Buck, Norman Lindsay, 1946, Pencil.
Exhibition details
Exhibition open 10am – 4pm, Thursday – Monday from 9 June – 3 October 2022.
How to book your tickets
Book via Eventbrite where possible, to guarantee a spot.
Important Information for Visitors
The health and safety of everyone is our biggest priority. By purchasing a ticket, you agree to our Terms & Conditions of Entry.
Please keep your ticket safe, as you will be asked to present your ticket at point of entry. You can do this by either printing a copy or displaying a digital version on your selected device