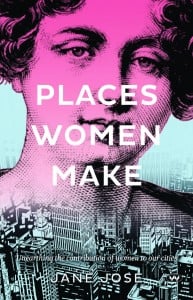 You are invited to join urbanist and author Jane Jose for a discussion about her new book 'Places Women Make' winner of the 2016 Australian Institute of Architects Bates Smart Award for Architecture in the Media.
Jane Jose was elected as an independent Deputy Lord Mayor of Adelaide in 1991. Since then she has worked closely with leaders in many Australian cities developing policies to make our cities more liveable. She cares deeply about urban places and spaces and how they improve people's lives. She is currently the Chief Executive of the Sydney Community Foundation, an independent, 'not for profit' community foundation focused on Australia's largest city of 5 million people
Having worked in the mostly male-led world of city making for the past twenty years, Jane Jose understands the importance of women in the shaping of our public places. In 'Places Women Make', Jane seeks to redress the imbalance in the representation of women's contributions to Australian cities by celebrating the women who have given us places that are loved. She shares the stories of women shaping the Australian city – its buildings, spaces, and social and political agendas.
Jane explores the powerful roles women have played as activists, architects, planners, philanthropists, policy makers, politicians and writers – roles which have indelibly shaped the places and policies of the Australian city and formed what it means to live in Australia today. 'Places Women Make' is a fresh look at city life, great places and the unsung urban heroines who made them. It speaks to a new generation of urban citizens and honours women from history.
'Places Women Make' is available from Wakefield Press and Book Depository
http://www.wakefieldpress.com.au/product.php?productid=1271