We will move around this area in air-conditioned comfort to view three fascinating heritage sites just to the east of Canberra Airport.  All are linked with events that occurred in World War II when Canberra was an embryo city of 12 000 people and home to a major RAAF base.  This is a little known period of Canberra's history.  The Air Disaster Memorial marks a 1940 air crash which claimed the lives of three key ministers of the War government plus the Chief of General Staff, a major setback to the War effort.  One of those killed gave his name to the new airbase established at RAAF Fairbairn, and you will learn more about its part in the War.  Our second site is a hidden and evocative WWII gem, known by very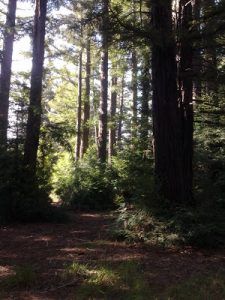 few.  Come on this Walk to see it – you will not be disappointed!  As a bonus we have discovered a poignant family story from the area at that time.  Site 3 is the Pialligo Redwoods, a plantation which forms part of Walter Burley Griffin's design for Canberra, and also has WWII associations.
This walk will commence at 9.00 a.m. This will help us avoid possible warm conditions later.  The walk to the Air Disaster Memorial is about 3km return, some of it in shady forest, and will be completed before 10 a.m.  There are some short hills and stony fire trail sections.  You may prefer to join us at 10 a.m. for the remainder of the walk.  The second site involves no walking, and the third a few hundred metres mainly in the shade of the Redwood forest.
The walk finishes at 11 a.m.  It is very rarely more than 30 C in Canberra at this time of day.
Meeting point:  Air Disaster Memorial Car Park, Pialligo Avenue. Driving towards Queanbeyan this is on the left hand side of the road, 2.7 km past the traffic lights at Scherger Drive (the turn off to RAAF Fairbairn). You will see a conspicuous blue sign near the car park entrance as you descend the hill towards Queanbeyan
Note:  For the comfort and safety of other walkers, we do not allow dogs on our walks.
Bad weather:  Unless otherwise advised by email, the leader will be at the meeting point where a decision will be made as to whether to proceed or postpone.
Cost:  $10
Bookings essential:  https://pialligo-redwoods-and-beyond.eventbrite.com.au
Note:  For the comfort and safety of other walkers, we do not allow dogs on our walks.