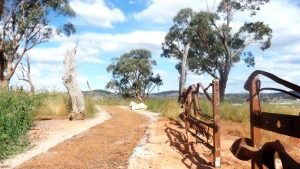 Three distinct eras will be on show as we walk along the historic Well Station Track to Gungaderra Homestead then across Flemington Road with its light rail, up to Gubur Dhaura—an Aboriginal cultural site.
In the lead up to NAIDOC week, Ngunawal elder Wally Bell will share knowledge at this ochre procurement site. It also has connections to Gungaderra and to Europeans of the district.
Meet: Park in Barbara Jefferis St, Franklin close to the nature reserve. We will then car pool and drive half the cars to Harrison oval (Nullarbor Ave) to start our walk.
Length and terrain: flat, mainly on paths to Gungaderra then slight uphill to Gubur Dhaura on paths. About 2 ½ km walk.  No toilets.
Walk Leader: Linda Roberts, then Wally Bell at Gubur Dhaura.
Bad weather:  Unless otherwise advised by email, the leader will be at the meeting point where a decision will be made as to whether to proceed or postpone.
Cost:  $10
Bookings essential:  https://pastoral-harrison-to-gubur-dhaura.eventbrite.com.au
Note:  For the comfort and safety of other walkers, we do not allow dogs on our walks.