Come fly with the Illawarra Shoalhaven branch of the National Trust at the HARS Aviation Museum; due to popular demand they are again offering the 'Attack Aircraft' specialist tour to members and friends.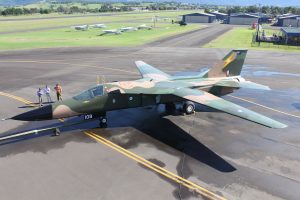 National Trust Illawarra Shoalhaven Branch and HARS Aviation Museum presents:
ATTACK AIRCRAFT AVIATION HERITAGE
With a senior HARS member as your guide, explore selected artefacts of Australian military aviation heritage, including:
* A flying de Havilland Tiger Moth – built at Bankstown in the 1930's and the rugged biplane trainer on which all RAAF pilots trained up to the mid 1950's
* A flying Commonwealth Aircraft Corporation (CAC) 'Winjeel' (Young Eagle) built in Melbourne and the RAAF Trainer which succeeded the Tiger Moth in the 1950's
* Two de Havilland Vampires- the first jet fighter which our RAAF operated in the 1950's and 60's
* A CAC built F86 Sabre jet fighter which replaced the Vampire and Meteor in RAAF service during the period 1954-1971
* A Dassault Mirage Fighter- which replaced the Sabre Jet and the RAAF operated during the period 1963-1987
* A General Dynamics F111 Swing Wing Bomber which served with the RAAF until December 2010
* Lockheed Orion 4 engine anti-submarine patrol aircraft
* RAN Fleet Air Arm aircraft from the HARS Navy Heritage Flight including; Grumman S2E and S2G Tracker Anti-Submarine Bombers, a Hawker Sea Fury (Piston Engined) Fighter from the 1950's, a De Havilland Sea Venom All Weather Jet Fighter and a Wessex ex RANFAA Helicopter which flew in an anti-submarine role
* Access to restricted heritage archives
Where feasible, see interiors, including the cockpits.
Enjoy Morning Tea and Orientation, then the Tour, followed by a light Lunch.
HARS is a world class collection of historic aviation planes and artefacts, based at Albion Park NSW.
This is an exclusive tour only offered through the National Trust and not available to any other organisation or a walk-up enquiry to HARS for a guided tour.
Transport Options – There is ample parking immediately outside HARS if you wish to drive. A rail journey is recommended as the NSW CityRail station (Albion Park Rail) is opposite the airport runway and approximately a five minute walk to the HARS entrance.
Tickets:
National Trust members $80.00
Friends of members $90.00
Child (under 14) $65.00
Booking is essential, please click here to book your tickets online via the HARS website.
Enquiries:
Please contact Fiona Reynolds via email: nt_isb@nationaltrust.com.au or phone: 0488 037 234