During this special one day workshop you will be shown how to beautifully transform drawings and photographs through etching, using the same antique press which was used to create Norman Lindsay's famous etchings.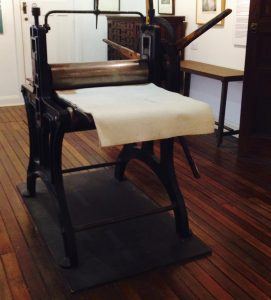 Learn etching in Lindsay's original studio surrounded by beautiful gardens, using traditional copper plate with safer printmaking materials.
Either bring with you a favourite photo, or take one in the grounds, find inspiration from leaves or plants collected in the gardens, or bring an old drawing which can be traced directly onto the plate.
You will be able to use different and contrasting effects that traditional etching with hard ground and open bite create, and use drypoint for directly tracing onto a transparent acetate plate.
Different ways of applying ink and printing your plates will be taught as well, so that you can create a series of prints which are varied and unique.
All abilities welcome.
Suitable for adults and children over 16. Creative kids vouchers will be accepted for senior high school students.
Tickets: $110 + booking fee including materials, click here to book.
Feel free to bring your own refreshments or the Norman Lindsay cafe will be open from 10am.
Wear old clothing, enclosed shoes and bring apron.
Disposable gloves will be provided.
Any special medical conditions please notify the organiser.