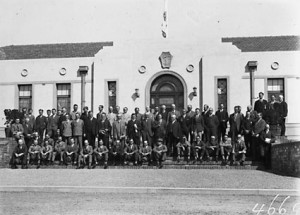 Did you know Canberra was once home to the Australian Forestry School which trained many professional foresters?  Come and discover our forestry education heritage.
The former Australian Forestry School played a significant role in the development of forestry in Australia and is significant for its architectural design, its contribution to the townscape and its place in the early social history of Canberra.  
The Forestry Precinct comprises about 11 hectares of land that includes the former Australian Forestry School, Forestry House (residential accommodation), an oval, plant nursery and arboretum.  Buildings in the precinct are now tenanted by CSIRO and other tenants.
The Forestry School building is a fine example of the inter-War Stripped Classical style of architecture and has a magnificent central domed hall.  The timbers used in the building are examples from every Australian state and an effort has been made in the design to use otherwise common timbers in a decorative way.  
Nearby in Banks St, Westridge House (also known as the Tudor House) was built in 1927 as the residence of the Principal of the Australian Forestry School.  The house is a unique blend of Tudor Revival style and radical functionalism.  It is now a private residence.
The National Trust (ACT) received a Heritage Grant from the ACT Government to hold this year's Open Day in the Yarralumla Forestry Heritage Precinct.  It will feature a range of activities for all ages and guided tours of the building and other features in the area.
There will be displays about forestry and timber and others from local community organisations and lots of activities for the kids.  The classic cars, and even some trucks, will be there.  During the day we will have singers and dancers and refreshments such as devonshire teas, icecreams and a sausage sizzle.  
The ACT branch of the Australian Institute of Foresters, including a number of former students of the Forestry School in Yarralumla, will be on hand to guide you around the area and tell you about the history of the Forestry School.