Mt Stromlo Observatory is a Canberra icon, the oldest scientific institution in Canberra and the headquarters of The Australian National University's (ANU) Research School of Astronomy and Astrophysics (RSAA). The site highly significant, being listed on the Commonwealth Heritage List and having been assessed as having potential national values.
Many are aware that the Mt Stromlo site was deeply impacted by the 2003 bushfires, a few buildings survived, a few have been rebuilt,a few remain as ruins. The 1928 Director's Residence underwent stabilisation and interpretation works in 2015 and is now an award winning attraction. For this tour, our guide, Amy Jarvis, ANU Heritage Officer, will lead us on the Mt Stromlo Heritage Trail stopping at key points of interest along the way. You will learn about the history and scientific aspects of this interesting place, while taking in the natural beauty of Mt Stromlo, and the stunning views over Canberra.
Meet: Car park (free) opposite Visitor Centre and 74 Inch dome, Mt Stromlo Rd.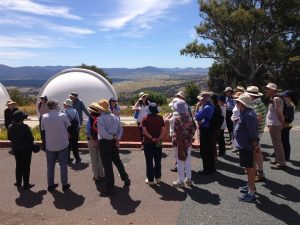 Length and terrain: 1-2hours, mainly sealed paths or easy grass terrain, one some short ascent to Oddie Dome.
Bad weather: The guide will be at the meeting point where a decision will be made as to whether to proceed or postpone.
Book:  www.eventbrite.com.au/e/heritage-walk-5-mt-stromlo-tickets-37631019392
Walk Leader: Amy Jarvis, Heritage Officer, ANU
Cost:  $7 per person