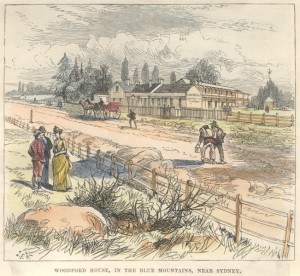 Mrs Margaret Shiels was a successful 19th Century business woman, and the main proprietress of Woodford House during its heydey as 'a first-class boarding house for Sydney visitors' and 'the most popular resort on the Western Line.' She was acclaimed as a 'pioneer of the mountain summer house', and managed guesthouses in Bathurst, Blackheath, Mittagong and Leura.
Mrs Shiels maintained Woodford House as a viable enterprise for Alfred Fairfax, Sir Charles Manning, and David Flannery during times of financial constraint and was also a mentor to her family, assisting them with their financial and political enterprises.
Kate O'Neill is the founder of the Central Mountains History web page dedicated to revealing and celebrating the unique, rich history of the Central Blue Mountains including the Woodford Academy. Kate is currently undertaking a Graduate Diploma in Local Family and Applied History at UNE. Kate's talk by will bring to the fore the contribution Mrs Shiels made to the early Blue Mountains Tourism industry as well as the contribution she made to the endurance of Woodford Academy.
Image – ' Woodford House' The London Illustrated News, 1889