The Moment in Time Exhibition captures a snapshot of the history of the Hartley Valley. The First Nation People who called it home, the explorers, the road makers and then some of the early settlers are all part of the story it tells.
The Hartley Historic Site is a National Parks and Wildlife Service managed suite of Victorian buildings making up the village of Hartley with its centrepiece the Mortimer Lewis designed Hartley Courthouse, dating from 1837. The award-winning Moment in Time Exhibition created by local historian and National Trust member, Joan Kent, will be installed in a centrally located building in the village adjacent to the Hartley Visitor Centre.
A Moment in Time provides an insight into the land and people immediately west of the Blue Mountains prior to the coming of Europeans. From then it proceeds to provide an insight into the first crossing by Europeans in 1813, George Evan's  follow up exploration, the building of William Cox's road to Bathurst,  and then Governor Macquarie's 1815 visit to Bathurst when he dedicated Bathurst as Australia's first inland city. It also reflects on and provides insight into the lives and experiences of four of the first European settlers to settle in the Hartley Valley.
Richly adorned with high resolution images of maps and paintings of the time, sourced from the State and National Library collections, the exhibition will provide a rich cultural experience for visitors.
A feature of the exhibition is an element providing a brief insight into the life and journeys of several early settlers in the Hartley Valley, at that time generally just referred to as (the district of) Mt York. John Grant arrived as a convict from Ireland in 1820 or thereabouts. Pierce Collit's settled in the Valley with his wife Mary in 1823 and developed a number of the earliest Inns west of the Mountains. Both these men left their convict pasts behind and built lives of real significance in the lands they settled west of Mt York.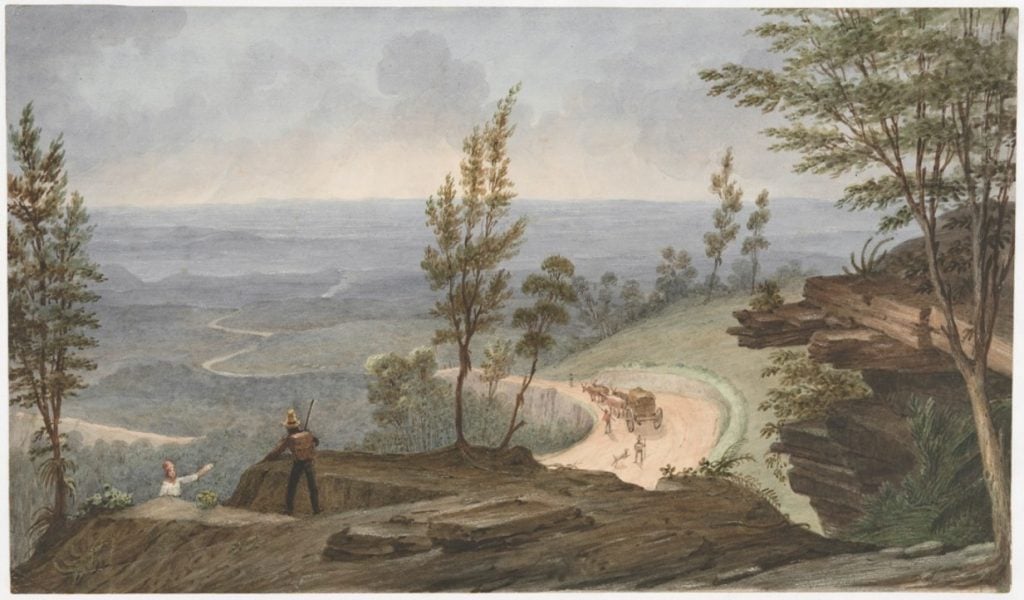 Image: Blue Mountains, New South Wales: the appearance of the new road [Augustus Earle],
National Library of Australia, National Gallery Catalogue
Exhibition details
Exhibition on display from 10am – 1pm & 1:30pm – 4pm, Tuesday – Sunday from Saturday 1 April – Sunday 28 May 2023.
An Exhibition Booklet providing comprehensive coverage of the exhibition will be available from the National Parks and Wildlife Service Visitor Information Centre at a cost of $30 each.
Reserve a free seat at the Official Opening on Saturday 1 April from 10:30am. Bookings essential.
Admission
Entry: Adults gold coin donation, children free of charge. Pre-booking for this exhibition is not required.
Partners
This exhibition is a joint project between the National Trust (NSW) and the National Parks and Wildlife Service supported by the Western Crossings Trust, the Hartley District Progress Association and the Mt Victoria Historical Society.