Celebrate spring with a special display of everything floral in the colourful urban garden and historic fernery of Miss Porter's House Museum.
Miss Porter's House has a garden which is quite remarkable. It's a rare example of a modest Edwardian town garden complete with WC, tank stand, cement paths with rolled edging, garden pots and a bush-house. Few other examples of this level of extant fabric survive. The near century long residence by one family, with limited means and cautious habits, means that visitors can continue to enjoy both the house and its small garden. Both are relatively untouched and retain many of their key elements.
Carefully tended by its dedicated volunteers, the Miss Porter's House garden has been maintained in a way which reflects its use by the Porter family. September 11th is garden Sunday when visitors are especially invited to celebrate spring and see everything floral in house and garden.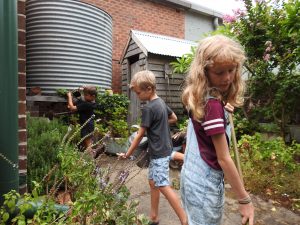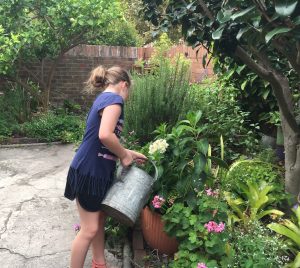 Images of children helping with the watering and sweeping. Copyright National Trust (NSW).
Relax in the bush-house, a covered outdoor area between the dining room, kitchen, and side fence. Anecdotal evidence indicates that the Porter women used the bush-house for social and leisure activities. Such structures were popular during the first half of the twentieth century providing sheltered sitting areas and a location for fashionable ferns, hanging baskets and potted plant collections. Most bush houses, like outside toilets, tanks, and tank stands, have disappeared. Fortunately, the Porters cherished and renovated the bush-house rather than have it removed.
The Porter women may have retained the original structure of their garden but that doesn't mean that they ignored changes in plant fashions. The Miss Porter's House collection has a wonderful scrapbook of magazine and newspaper clippings from 1954-77. It contains articles about individual plants, new varieties, techniques, problems and gives an insight into the family's typical mid-century tastes. They loved azaleas, begonias and camellias as well as ferns and the new fashion for Australian natives. Tea tree and bottle brush caught their interest, and they are reported to have had grevillea planted at the side of the house.
So, enjoy everything floral, celebrate spring in 'Miss Porter's Garden' and take home a memento from the plant stall.
Free children's activity also available on the day.
How to book your tickets
Book via Eventbrite, where possible, to guarantee a spot.