Celebrate the 50th anniversary of Norman Lindsay Gallery and welcome new members to the National Trust. We will have an opportunity to view the special exhibition and a celebratory glass of champagne and homemade canapés will be served.
Here is an exclusive opportunity to meet up with new friends or perhaps reconnect with existing ones.
You will learn some of the things the Blue Mountains branch has been doing and at the same time have an opportunity to view the special 50th anniversary exhibition which is showing at Norman Lindsay Gallery. A member of the Norman Lindsay Gallery team will tell us something about this as well as news of other events taking place at the Gallery. We will also be enjoying a celebratory glass of champagne (or wine) in the courtyard together with some delicious homemade canapés.
We will hear plans of other upcoming events at nearby National Trust properties.
Not all your time will be spent listening to others; there will be lots of time to chat amongst yourselves – perhaps coming up with some ideas for future events.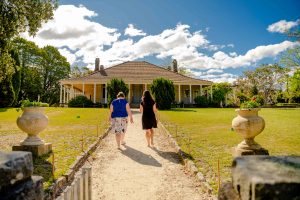 How to book your tickets
This event is for members only.
Tickets: Free. Should members wish to contribute, donations will be gratefully accepted at the door.
Book your ticket(s) via Eventbrite where possible, to guarantee a spot.
Enquiries
Contact Liz Reyswoud, Blue Mountains Branch – Bmnt1814@gmail.com
Get involved with the National Trust (NSW)
Become a member and enjoy many benefits including access to special heritage places in Australia and in over 60 countries. Subscribe to our eNews for the latest heritage news, special offers and events.