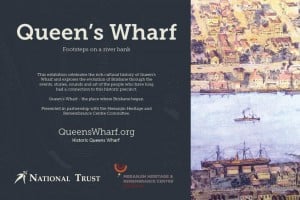 This exhibition celebrates the rich cultural history of Queen's Wharf and explores the evolution of Brisbane through the events, stories, sounds and art of the people who have long had a connection to this historic precinct.
Queen's Wharf—the place where Brisbane began.
Visit National Trust Office Brisbane, 95 William Street, Brisbane.
10am to 2pm, Monday to Friday (excluding public holidays).
Presented in partnership with the Meeanjin Heritage and Remembrance Centre Committee.