The Friends of Grossmann House are hosting a Heritage Walk in Mayfield – once known as the "Toorak of Newcastle". Led by guide Wayne Campbell the walk will commence at 2.00pm on Sunday November 28, and finish with afternoon tea at a local home.
Known as the "Toorak of Newcastle" in the 1880-90s, Mayfield will be the site of a Heritage Walk organised by the Friends of Grossmann House. Commencing on the corner of Regent and Hanbury Streets, Mayfield, our knowledgeable guide Wayne Campbell will take us through some of the historic streets of the western area of Mayfield which still retain many of the signs of its once grand history.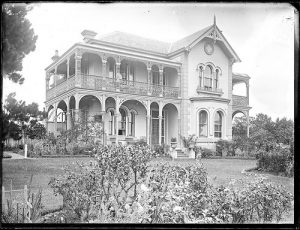 The 1880-90s saw the construction of magnificent properties, home to some of the leading business families of Newcastle, escaping the grime of city living to enjoy the fresh air and amenity of this then outer suburb. By 1915 and the emergence of industrial powerhouses such as BHP taking advantage of proximity to the river and railway, this area of Newcastle did change, but the vestiges of the once grand houses are still apparent with many in the process of restoration. Following our walk will be afternoon tea in such a house, with a sumptuous spread prepared by the Friends of Grossmann House, and ambience provided by our generous hosts.
Bookings essential as tickets are limited.
Note: Care to be taken during this walking tour. Uneven street walking is involved.
How to book your tickets
To ensure the health and safety of the community, the National Trust (NSW) requires pre-booked tickets. National Trust members $20. Adults $25.
Sunday 28 November – SOLD OUT
Saturday 4 December – SOLD OUT
Please email amcauliffe@nationltrust.com.au to be put on a waiting list in the event of cancellation.
Enquiries
Contact Holly McNamee on 0418831599.