Join an exclusive member viewing of the new exhibition, Making Good: Convict Artisans in Exile at Old Government House.
Join us for an exclusive member viewing of our new exhibition, Making Good: Convict Artisans in Exile, at Old Government House.
Located in the upstairs rooms of this World Heritage listed property, Making Good will tell the stories of skilled convicts connected to Old Government House and more broadly the colony. The exhibition will explore how those forcibly banished to the antipodes used their skills and acumen to become independent businesspeople who furnished the homes of their captors. It will examine how convicts used their ingenuity, skill, perseverance, and entrepreneurship to ultimately gain their freedom in the colony, and helped to build a modern settlement in the process.
Featured in the exhibition are objects from the National Trust's collection, including the James Oatley Clock, Alexander Hart bed, and artwork by Joseph Backler and Joseph Lycett.
Members will have a chance to hear from the Old Government House Curator, Anna Ridley, about the development of the exhibition and the many exciting discoveries that accompanied this process. Afterwards, members will enjoy a lovely morning tea of scones in the courtyard with tea and coffee.
Access: Please note the exhibition is located on the top floor of Old Government House, up a flight of stairs.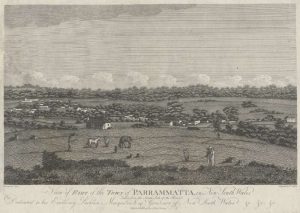 View of part of the town of Parramatta in NSW taken from the south side of the river; drawn by J. Eyre; engraved by W. Presston 1813.
How to book your tickets
This is a special event for current members of the National Trust. Members viewing tickets include access to the Making Good exhibition, a 45 minute tour with the Old Government House Curator, plus refreshments provided by Lachlan's Restaurant.
Pre-book your ticket to Making Good – Members Viewing via Eventbrite.
Note: Please bring along your membership card to present upon arrival.
Dietaries
For any dietary requirements, please contact the property at ogh@nationaltrust.com.au or on (02) 9635 8149.