Making Good explores the lives of convict artisans who used their skills to transform their place of exile into a thriving modern settlement.
Making Good will tell the stories of skilled convicts connected to Old Government House and more broadly the colony. The exhibition will explore how those forcibly banished to the antipodes used their skills and acumen to become independent businesspeople who furnished the homes of their captors. These convicts were instrumental in transforming a place of exile into a modern settlement with a thriving local economy.
Through an exploration of convict artisan crafts, we turn the lens onto convict ingenuity, skill, perseverance, and entrepreneurship. Bereft of family and exiled from their home, convicts produced and sold their wares to ultimately gain their freedom in the colony, seizing all opportunities. While this exhibition showcases the artisan and exquisitely made wares made by convict hands, the exhibition is fundamentally about the lives of these people told through their objects.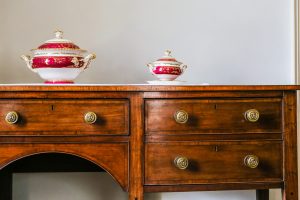 Old Government House dining room. Sideboard attributed to Laurence Butler c1810.
Private lender. Photograph by Mark Bowyer
From convict love tokens to beautifully detailed silverware, the exhibition will include furniture made by Laurence Butler and Alexander Hart, clocks by James Oatley, art by Joseph Backler and Joseph Lycett, pottery by John Moreton and Jonathan Leak, and textiles made at the Parramatta Female Factory.
An exciting component of the exhibition will be a multimedia artwork created by a Western Sydney artist in response to a convict made bed, exploring the ideas of industry, the convict labour system, and the impact that making a colony had on the Indigenous people forced from their land.
Access: Please note the exhibition in located on the top floor of Old Government House, up a flight of stairs.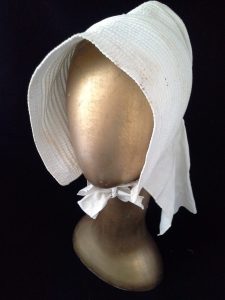 On display: 1820s bonnet from the National Trust Collection. Maker unknown.
How to book your tickets
This exhibition runs Saturday 5 March – Sunday 27 November 2022 in accordance with Old Government House opening hours and days, as listed below. Last entry at 3.30pm for 4pm closing. Your exhibition ticket also grants full access to the house.  To ensure the health and safety of the community, the National Trust (NSW) requires pre-booked tickets.
Pre-book your ticket to Making Good: Convict Artisans in Exile via Eventbrite.
Enquiries
Please contact the property direct using the details below.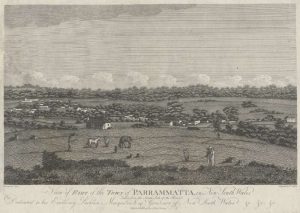 On display: View of part of the town of Parramatta in New South Wales taken from the south side of the river; drawn by J. Eyre; engraved by W. Presston 1813.