The long rocky peninsula of Hunters Hill (also known as Moocooboola) separating the Parramatta and Lane Cove Rivers at their confluence, is one of Sydney's most individual and liveable suburbs.
Hunters Hill derives much of its individual character from the handsome sandstone houses built in the late nineteenth and early twentieth centuries by Frenchmen Joubert and Jeanneret, with the assistance of Italian stonemasons. Despite repeated subdivisions, Hunters Hill retains a village atmosphere, pretty gardens and quiet charm.
Wyralla, Futuna Street, Hunters Hill
One of a group of houses built by C E Jeanneret, this single-storey stone house is said to have been built c1900 for his youngest child, Florence, and given to her as a wedding present. Additions for modern living were made in the 1970s. WYRALLA is located opposite St Peter Chanel Church, named after a Catholic priest, missionary and martyr, who worked and perished on the Pacific island of Futuna at the age of 38, in 1841.  The land was acquired by Jeanneret and the Gothic style church opened in 1892. The Church will be open on Hunters Hill Day.
Waiwera, Woolwich Road, Hunters Hill
Built by C E Jeanneret in 1878-79, this house is distinguished architecturally by Boom-time scale and details. The massive edifice of fine sparrow-pecked sandstone is lightened by winding balustrades of iron lace, heightened by a delicate turret linking it to its neighbour.
Wybalena, Woolwich Road, Hunters Hill
One of several low- scale houses built by C E Jeanneret along Woolwich Road in the 1890s, this house of rusticated (quarry-faced) sandstone is distinguished by its drystone wall, slate roof with four chimneys, long bay windows and verandah. It was the last residence of Jeanneret (1834-1898).
The importance of this site is recorded on the footpath plaque outside the front fence.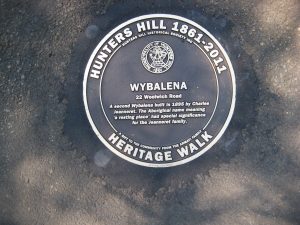 Please Note: Tours are at either 10.30am-12.30pm or 1pm-3pm
Cost $40 members only; $20 youth [aged 12-20]