This enchanting new exhibition features a selection of artwork from 10 contemporary children's book illustrators, on display alongside classic childrens' illustrations by Norman Lindsay and Pixie O'Harris.
Norman Lindsay Gallery is open Thursday – Monday, 10am – 4pm. This exhibition is on from 16 September – 30 January 2022.
Explore this splendid exhibition featuring a selection of works by contemporary children's book illustrators alongside classic children's illustrations by Norman Lindsay, Pixie O'Harris, Ruby Lind and Percy Lindsay.
Featured artists include Anna Pignataro, Liz Anelli, Tania McCartney, Jules Faber, Aura Parker, Kirrilli Lonergan, Donna Rawlins and Penelope Prately.
Selected works and prints for sale.
Children's holiday program.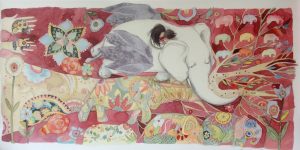 Image: Anna Pignataro in Elephants have Wings.
How to book your tickets
To ensure the health and safety of the community, the National Trust (NSW) is opening its properties with pre-booked tickets.
Tickets to In the Picture: Childrens' Book Illustrators will be available via Eventbrite shortly.