A showcase of contemporary Artist Books by Vivienne Dadour, Fiona Davies and Anne Graham who explore diverse methods creating a unique visual language.
Artists books began to appear in the art world in the 1960s and since then have become thought of as 'book art', 'books as artwork', 'bookwork', or 'book objects'.
The exhibition IMAGE WORD OBJECT showcases the work of three Blue Mountains artists – Vivienne Dadour, Fiona Davies and Anne Graham, who explore contemporary practices around the making of their 'artists book' to explore a personal visual language, thus expanding ideas of what an artists book can be.
They use diverse methods of production relevant to their practice and their subject matter and the content varies from subjective notes to objective records, from individual and domestic narratives to social, political and cultural commentary.
Each artist will produce approximately 3x 2 and 3 dimension artworks in the form of books and related objects, photographs and display cabinets.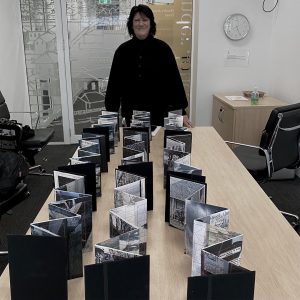 Photos: Vivienne Dadour, artist book display, State Library NSW
Exhibition details
Exhibition open 11am – 3pm, Wednesday – Sunday from Sunday 30 April – Sunday 21 May.
How to book your tickets
Exhibition is included in a valid Everglades General Entry ticket.
Book via Eventbrite where possible, to guarantee a spot.