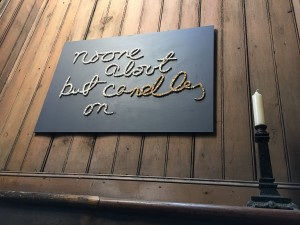 Curated by Susan Cochrane 'If These Walls Could Speak' is a thematic exhibition inspired by the architecture, landscape, real and imagined personalities, history and heritage of Woodford Academy – the Blue Mountains oldest building. The exhibition will feature works by select Blue Mountains Artist's Network (BMAN) artists and poets displayed throughout the historic buildings and grounds.
Participating artists include Greg Bakes, Cathie Cox, Mary Greig, Caitlin Hughes, Tia Henderson, Christine Hyde, Livonne Larkins, Jo Langley and Alison Mercer. The exhibition will also feature works by poets Emma Brazil, Jenny Campbell, Mark O'Flynn, and John McManamey – the school rector of the Woodford Academy from 1907-1936.
'If These Walls Could Speak' is a 2017 Australian Heritage Festival event. The Australian Heritage Festival is supported through funding from the Australian Government's National Trusts Partnership Program.
Exhibition dates – 1 April, 15 April & 20 May 2017, 10am – 4pm
Artist Talks/Poetry Readings  1pm – 2pm
Image 'Lingering Voices' Caitlin Hughes