This Heritage Walk will reveal some of the fascinating stories of this historic little area of Maitland tucked away beside the Hunter River.
Join Michael Belcher for a Heritage Walk around Maitland's unique Horseshoe Bend. Following the walk a splendid afternoon tea will be served at historic Brough House, 73 Church St, Maitland.
Horseshoe Bend has seen immense change in the last 250 years from an almost impenetrable rainforest to a residential and farming flat. Once bounded by the Hunter River, it is now bypassed in areas except in flood time such as 1893 and 1955 when the course of the Hunter was altered in this area.
Horseshoe Bend has been a very tight knit community, our guide included, and still retains many original residences from slab huts to best brick. Development is now being allowed, so it is a great time to see the Bend as a little of the small village it has been for a long time.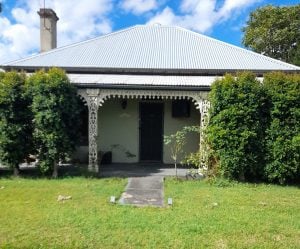 Image: "Outward Cottage ", 1852, Robins Street, Horseshoe Bend. George Moore senior's house – confectioner, soft drink manufacturer, and cricket legend. Michael Belcher
Event details
Tour runs from 2pm – 5pm on Sunday 3 September 2023.
How to book your tickets
Tickets: National Trust members $25, concession $25, adults $28.
Book via Eventbrite to guarantee a spot.
Get involved with the National Trust (NSW)
Become a member and enjoy many benefits including access to special heritage places in Australia and in over 60 countries. Subscribe to our eNews for the latest heritage news, special offers and events.