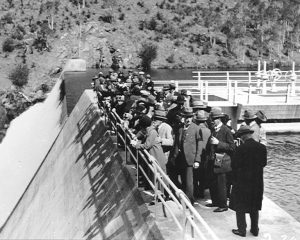 The walk will be in the Cotter Dam area looking at the progression of Canberra's water supply over the past century, beginning with the original concrete gravity dam to serve a population of 25,000 people. The dam wall was then raised in 1951 to more than double its capacity; in 2013 it was replaced by the New Cotter Dam.  Along the way we will view historical interpretive material and see relics of the original dam, now engulfed by the new dam which impounds 20 times as much water.  Suction pipes passed through tunnels to reach the Pumping Station on the far side of the Murrumbidgee River, and thence through a pressure pipeline to Mount Stromlo and Canberra.  We will not have time or access for an inspection of the heritage listed Pumping Station on this occasion, but discussion on it should whet appetites for a subsequent visit.
Meeting point: At the Cotter Reserve, about a 25 minute drive from the centre of Canberra.  From the city follow the Cotter Road and cross the Murrumbidgee River (traffic lights) and then the Cotter River (narrow bridge), immediately after which on the right is the entrance to the Cotter Reserve.  Park on the right hand side near the toilet block towards the end of this road.
Length and terrain: This is a short walk at the foot of the dam and under the bridge over the Murrumbidgee River.  There are steps on an interpretation boardwalk near the dam and some uneven ground near the river.
Bad weather etc:  Unless otherwise advised by email, the leader will be at the meeting point where a decision will be made as to whether to proceed or postpone.
Walk leader: The Walk will be guided by Keith Baker and Rob Breen, members of Engineering Heritage Canberra, the local chapter of Engineering Heritage Australia, the national heritage group of Engineers Australia.  Keith is well known in the ACT as a heritage consultant and is the author of the 2013 prize winning book, A Century of Canberra Engineering.
Cost: $10
Bookings Essential: https://heritagewalkact19-cotterdam.eventbrite.com.au
Note:  For the comfort and safety of other walkers, we do not allow dogs on our walks.