Browse a comprehensive exhibition of remarkable bark paintings from the Northern Territory's Arnhem Land.
The "heart" of this exhibition is the relationship to Country expressed in diverse and sometimes oblique ways by four generations of Indigenous artists from Arnhem Land and beyond. Core works come from a remarkable private collection of bark paintings assembled by Donna-Marie Kelly and Andrew Dyer, featuring some of the finest painters of Arnhem Land.
Located in the tropical zone of the Northern Territory, Arnhem Land comprises a limestone plateau in the west, where artists have painted on rockfaces for thousands of years, and riverways and coastline to the east. The region is forested by Stringybark Eucalyptus which provides the physical basis of bark paintings.
Representation of ancestral imagery saturates the art produced in Arnhem Land; ceremonial events, clan designs, hunting scenes, totemic animals, ancestral beings such as Nagylod (Rainbow Serpent) and spirits such as Mimi (malevolent sprites) and Yawk Yawk (water sprites). This imagery affirms custodianship and connection to Country as well as ceremonial knowledge inaccessible to the uninitiated and non-Indigenous people.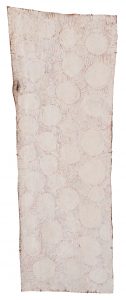 Artworks:
Left: MARY NONGIRRNA MARAWILI
Batpa  2014, earth pigments on stringybark, 197 x 56 cm
 Dyer Family collection.
© Mary Nongirrna Marawili, Buku-Larrnggay Mulka Centre, 2022
Right: Ms N. Yunupingu
Ganyu 2018
earth pigments on stringybark, 208 x 71 cm
Dyer Family collection
© Wendy Nyapanyapa Yunupinu, Buku-Larrnggay Mulka Centre, 2022
Exhibition details
Exhibition open 11am – 5pm, Tuesday – Sunday from Saturday 30 July – Sunday 11 September 2022.
How to book your tickets
Exhibition entry is included in a valid S.H. Ervin Gallery entry ticket.
Book via Eventbrite where possible, to guarantee a spot.
Partners
Presented in association with Drill Hall Gallery.