Saumarez Homestead is thrilled to be re-opening soon with the return of the Armidale Farmers' Market to bring the community 'Harvest to Heritage' on the second Sunday of every month.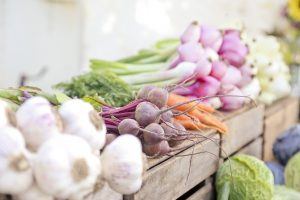 After a winter hiatus, Saumarez Homestead is thrilled to soon throw open the gate, serving Armidale and the local area a mouth-watering selection of up to 30 stalls of fresh produce from local farmers, plant products plus some speciality food producers of the New England and Coffs Coast region.
Following a successful season at Saumarez Homestead earlier this year, we are hopeful that the market which has been going for 10 years, will be able to return again soon and run right through until 12 June 2022 on the second Sunday of every month. The Volunteer Committee which organises the market is passionate about living in a sustainable, balanced way, offering an authentic traditional market experience and the opportunity for the community to connect with local regional producers and their products.
The market sits within the picturesque and spacious gardens of this heritage-listed property, which is open for the public to enjoy on market days, so marvel at the Heritage Rose Garden, home to over 600 roses where the Australian Garden History Society will be on hand to answer any questions. Take a stroll through Mary's Garden with winding stone paths, beds of perennials, a stream with small bridges and pergolas supporting an ornamental grapevine. Get a taste of the story of Saumarez by watching a short film, playing all day. Explore more by purchasing a self-guided tour ticket on the day to the ground floor of the fully-furnished Edwardian mansion, steeped with history, providing visitors with a glimpse of 19th century pastoral life from the 6,500 collection items.
Also available is laidback live music with a coffee cart and seating – so once you've wandered through the gardens and shopped at all the stalls, watched the short film and explored the mansion, treat yourself to a coffee and take a seat on the lawn in front of the band.
For now, our properties remain temporarily closed. Thank you for your patience as we prepare for the easing of lockdown restrictions and welcoming you back when it is safe to do so. Please stay tuned for updates on when the market will restart in 2021.
Free entry to gardens & grounds, however we encourage visitors to donate generously in support to support the National Trust's work looking after properties like Saumarez Homestead.
Booking fees apply for entering and exploring the main house between 10am and 1pm. Advanced tickets can be purchased via Eventbrite.