Join guide and historian Paul Innes on this special tour of Carrington Hotel, a lovely icon of the Blue Mountains that displays the timeless elegance of a bygone era. Includes afternoon tea.
Beautifully restored, you will hear the history and see some of the magnificent rooms of the Carrington Hotel, and then sit down to afternoon tea in a warm and welcoming room. We then have the opportunity to stroll the top of Katoomba street, looking at the facades of some of the excellent examples of the Art Deco era.
History
As the Great Western, this hotel was a popular mountain retreat for the elite of Sydney and international visitors. It was renamed after the then governor of NSW, Lord Carrington, in 1886 by its new owner Mr Goyder who is credited with the creation of the "Grand Dining Room".
Its facilities were extended and upgraded and it became even more popular for those wishing to experience the fresh mountain air and enjoy the expansive view. Its reputation was enhanced even further by a visit by the Duke and Duchess of York in 1927 (parents of Queen Elizabeth II, and the Duke and Duchess of Gloucester in 1945.
Tourism declined in the 1950's and 60's owing to the massive bushfires which raged through the mountains in 1957, but the Carrington remained open during all this as well as during the population decline in the 1970s. It finally closed in 1985, but reopened in 1998 after eight years of restoration.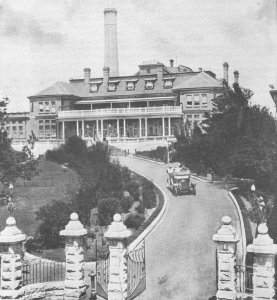 Image: Harry Phillips
Proudly presented by the Blue Mountains Branch.
Event details
Tour runs 1:45pm – 4:30pm on Thursday 10 August 2023.
How to book your tickets
Tickets: National Trust members $50, adults $60, concession $55
Tickets strictly limited so early booking is recommended.
Book via Eventbrite, where possible, to guarantee a spot.
Enquiries
Contact Elizabeth van Reyswoud via email bmnt1814@gmail.com
Get involved with the National Trust (NSW)
Become a member and enjoy many benefits including access to special heritage places in Australia and in over 60 countries. Subscribe to our eNews for the latest heritage news, special offers and events.