To celebrate the first open day of 2024, Grossmann and Brough Houses invite you to view special displays, take a house tour and enjoy refreshments in the garden.
Gain a glimpse into life in a magnificent Victorian 1870s townhouse, with Grossmann House tours on the hour. Explore the house, the separate wet and dry laundry and view unique 19th century Victorian costumes on show in the Textile Display room upstairs. Refreshments available, including Devonshire teas, homemade slices, gourmet sandwiches, tea, coffee and juice.
View special displays both upstairs and downstairs at neighbouring Brough House, showcasing one of its former lives as the Hostel for Maitland Girls High School. The fascinating Fibre Makers' Space upstairs will also be open for visits to view historic looms and look at weaving in action. Bespoke textile items will be for sale, and visitors will get the chance to talk to artisans.
Purchase jams and pickles, greeting cards and Mrs Beckett's locally famous homemade preserves.

Event details
Join us from 10am – 3pm on Sunday 11 February 2024.
How to book your tickets
Grossmann House: General entry admission. Book via Eventbrite, where possible, to guarantee a spot.
Brough House: Entry is free. A donation box will be available for those who wish to contribute.
All proceeds go towards the ongoing maintenance of the property and its gardens.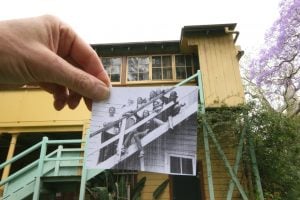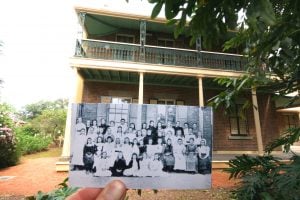 Images supplied by Alan Todd. Hostel Girls – Now and Then series.
Get involved with the National Trust (NSW)
Become a member and enjoy many benefits including access to special heritage places in Australia and in over 60 countries. Subscribe to our eNews for the latest heritage news, special offers and events.