Governance: The Exhibition (10 contemporary artists respond to the role of governance today) 10 March – 16 April 2017.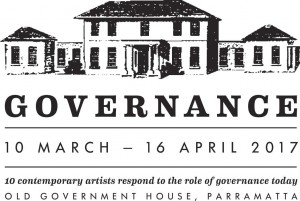 The National Trust of Australia (NSW) is excited to announce our new exhibition: GOVERNANCE at Old Government House, Parramatta from 10th March to 16 April. Curated by Lizzy Marshall, this temporary exhibition forms a unique partnership between three iconic cultural institutions; Old Government House, Parramatta Artist's Studios and the City of Parramatta. 2017 also marks the 50th anniversary of the National Trust NSW looking after this World Heritage property, and all OGH pro rams in this year reflect the Governance theme.
Displayed throughout Old Government House in both the public and private rooms, Governance features work from some of Australia's most exciting artists: Marian Abboud, Liam Benson, Linda Brescia, Fiona Davies, Kath Fries, Nadia Odlum, Naomi Oliver, Abdullah M.I. Syed, Salote Tawale, and Hanna Toohey. A broad array of diverse artworks including digital mappings, drawings, iterations of in-situ performances, sculptures, suspended installations and mixed media artworks will be installed in situ amongst Old Government House's renowned colonial narratives.
GOVERNANCE is made possible through a City of Parramatta Creative Projects Leverage Fund grant
Opening Times and Tickets:
Governance tickets can be bought from the door (reception) or book online 
Adult: $16 / Conc: $14 / Child: $8 / Group: $14 / Family: $35
NT: Adult: $10 / Child $5 / Group: $9 / Family: $20
NB: Governance will be closed Mondays, 18 March and Good Friday.
House Tours (45 mins and ground floor only) will be running throughout the show at exhibition prices. One ticket is access to house tours plus exhibition experience and is unlimited for the day of visit.
Governance Public Programs:
Curator's Tour of Governance (Lizzy Marshall) / 19 March 1.30 – 3pm ($25 pp) Book Online
3 Governance Artists talk about their work / 25 March 11am – 12pm ($25 pp) Book Online
"Thoughts and Prayers" beading workshop with artist Liam Benson (assisted by Naomi Oliver) / 2 April 12pm – 3pm ($30 pp) Book Online
4. Curator's Tour of Governance (Lizzy Marshall) / 8 April 1.30 – 3pm ($25 pp) Book Online
IMAGE: Naomi Oliver, Power Play – Part II. 2017, Digital Video. (detail)