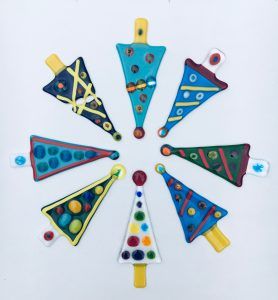 Join local glass artist Joy Levins at Ayers House Museum to make your very own unique fused Glass Christmas Tree decoration.
This is a fun 45min workshop.
Saturday November 21
Joy will then kiln-fire your beautiful Tree ready for you to pick up the following weekend at Ayers House Museum.
This class is suitable for all – adults & children five years and above.
(5 – 12 years to be accompanied by an adult at all times)
You are welcome if speedy to create a 2nd tree during the class for an extra $25.
Workshop presented by Joy Levins
http://www.joylevinsglass.com/
Instagram: @joyous1611
COST
Adults & children $25
NT Members $20
SESSIONS
Sunday November 29
Session no 1:  10:30am – 11:15am
Session no 2:   11:45am – 12:30pm
Session no 3:   1pm – 1:45pm
LOCATION
Ayers House Museum
288 North Terrace, Adelaide, SA 5000