Browse a very special exhibition of Georgian Glass from the National Trust collection.
Glass has been an essential part of British households since Roman times. The earliest manufacture of raw glass in England can be traced back to 1226 at Chiddingfold. Until the 15th century, the majority of glass produced was window glass for use in churches and monasteries, with some glass for drinking, medicine, or for storing chemicals.
Quality glassware for domestic use became available in the 1570s. The discovery of heavier and more durable glass led to the development of the English glass industry, and by 1800 table glass was affordable for the general public.
This display presents a range of hand-blown glass produced from  1770 – 1830 for domestic use, from wine and rummer glasses to finger bowls, jugs and serving bowls. The new technologies developed in the industrial revolution can be seen through the progression of glass styles that incorporated etching, coloured glass and cut facets.  The introduction of mass produced moulded glass coincided with the end of the Georgian period, and hand-blown glass became an artisan product. The glass gives a fascinating insight as to how a colonial table at Harpers Mansion may have looked when the house was first built by James and Mary Harper.
This exhibition of Georgian Glass at Harper's Mansion is a travelling exhibition of some of the National Trust's collection. Cosy up by the fire in the house and marvel at these splendid pieces.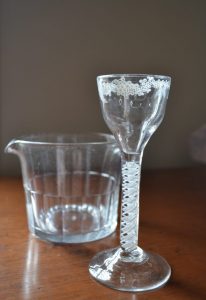 How to book your tickets
On display from 11am – 3pm on the first and third weekends of the month, from 2 July – 16 October 2022.
Book via Eventbrite, where possible, to guarantee a spot.