Join us on Saturday, 17 August for a special day of the Georgian Glass: Colonial Style exhibition with a tour and morning or afternoon tea.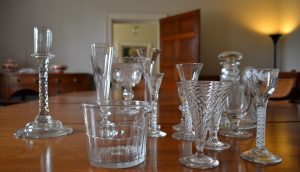 Take this opportunity to view Georgian Glass: Colonial Style; a travelling exhibition of over 40 beautiful pieces from the Havelberg-Smith Collection that will be on display at Lindesay in Darling Point until the end of September.
This exhibition, presented by The National Trust (NSW), will showcase more than 40 pieces from the collection (c.1700-1840), which highlight stylistic changes in English glass, driven by advances in technology and changes in the way people ate, drank and socialised.
Plus, at 2pm we have Australian glass artist Brian Hirst delivering an inspirational and educational talk. Brian has an international reputation and has won numerous awards for his glasswork; his work is known for its interpretation and referencing of historic styles, particularly the iridescent surfaces of classical antique Roman glass. He is also a collector of historic and early contemporary glass, his works are held in private collections in Australia and internationally.
Tickets:
$10 National Trust Members
$20 Non-Members
(Ticket includes tours, talks and morning and afternoon teas)
The last day Lindesay is open for viewings of the display is Wednesday 25th September.