Morning tea and tour of Garroorigang House, collection, garden and outbuildings followed by afternoon tea and tour of Riversdale Homestead, collection, garden and outbuildings.
This tour starts at Garroorigang. Visitors are to meet at the property at 10am.
Enjoy exclusive talks, tours and teas at two of Goulburn's Colonial properties – 'Garroorigang' and 'Riversdale' – with their fine collections, complex of outbuildings and historic gardens. Both properties were built as Inns then became ancestral family homes. Delve into their respective histories, gain insight into how these properties are managed, enjoy morning tea in the garden at Garroorigang and a delightful afternoon tea at Riversdale. Take in an exhibition about 200 years of Goulburn's History, and find Australian made gifts and Medlar Jelly for sale in the Riversdale shop.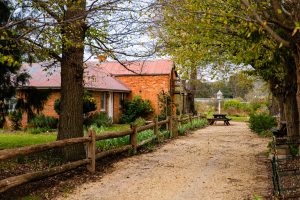 Riversdale. Photo: National Trust (NSW)
Garroorigang, built in the 1850s as the Mulwarree Inn, was purchased by Samuel Belcher who ran the property as a family home and boarding school, notable students include Impressionist painter John Peter Russell, test cricketer H. H. Massie and the Mort brothers. The property remains the family home of the Belcher and Hume families who have retained the buildings, collections and garden, providing insight into life through Colonial and Victorian times.
Riversdale, built in the 1830s as a coaching inn, was purchased by the New South Wales Surveyor-General, Edward Twynam in 1875. It remained the family home until 1967 and is now owned by the National Trust NSW.
Why join?
Soak in two of Goulburn's impressive Colonial properties in one tour, morning and afternoon tea included.
Enjoy exclusive garden tours at both properties. Learn how the team at Riversdale has restored its award-winning heritage garden and is implementing anti-drought techniques to ensure the garden's continued survival. See heritage roses, orchards and the Medlar trees dating to the 1840s.
Enjoy exclusive talks from the expert guides who will provide insight into the family histories, see restored heritage costumes, embroidery panels, musical instruments and original surveying equipment.
How to book your tickets
Tickets: National Trust members $60, adult $70, family $150, children aged less than 5 years are free.
Book via Eventbrite, where possible, to guarantee a spot.
While you're there…
While you're in Goulburn, consider visiting:
Historic Water Works
Saint Peter's and Paul's Old Cathedral
Cathedral Church of St Saviour
Goulburn War Memorial