Browse an exquisite tri-generational group exhibition of four artists of the Luck family.
Introducing Fortuna x Quattro, a tri-generational group exhibition of four artists of the Luck family: renowned Australian bird and wildlife artist (and Retford Park gardener) James Luck; his sister, Melbourne-based artist Jacinta Payne; their niece Elise Abotomey, an emerging portraiture line artist; and a posthumous retrospective celebrating the life and art of Don Luck, their father/grandfather.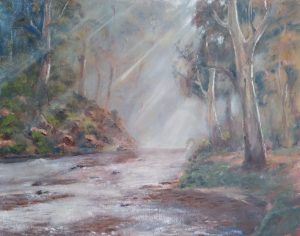 Morning Light. Don Luck
Don Luck was an Australian artist who painted until the age of 81 when a stroke left him with limited use of his right hand. A traditional landscape painter, Don's love of the Australian countryside is evident in his depictions of many scenes from around the outskirts of the Southern Highlands where the family lived for many years. Don passed away in May 2021.

Cape Barron Goose. James Luck
James Luck is an award winning and highly respected painter of Australian birds and wildlife. He has exhibited both in Australia and internationally. James' love of native flora and fauna is reflected in his exquisite work. He spends much time in the bush studying native wildlife to capture their habits and their environment in his artwork. James has contributed work to many publications, been a finalist in many art prizes and his work appears in collections throughout Australia and internationally.

Fire & Flood. Jacinta Payne
Jacinta Payne's (nee Luck) art practice began during a childhood spent in the bush, growing up on the edge of Morton National Park in the Southern Highlands. An intuitive mark maker and painter of remembered and imagined places, Jacinta's atmospheric and compelling landscapes express her commitment to preserving the earth's precious resources. Jacinta has exhibited in solo and group exhibitions and art shows, and her work has found its way into private collections around Australia and internationally, as well as public installations around Melbourne.

Untitled. Elise Abotomey
Creating line art that often takes form in abstract portraits, Elise Abotomey studies her sitters both visually and intuitively. She explores her subject through line and movement to express her connection to the people around her and those she interacts with. Elise's portraits illuminate the diversity and complexity of human nature and portray the idiosyncrasies of each of her subjects. Elise lives in the Southern Highlands and has just completed a double degree in International Studies and a Bachelor of Arts.
Exhibition details
Fortuna x Quattro will be displayed in the White Cottage at Retford Park and is available to view 10am – 4pm, Thursday – Sunday, 20 August – 16 October 2022.
How to book your tickets
This is a free event.
Tickets for house and garden tours can be purchased separately for those wishing to get a glimpse inside historic Retford Park and its impressive surrounds.
Book house and garden tickets via Eventbrite where possible, to guarantee a spot.