Follies and Frolics is a celebration of revelry, parties and bacchanalian feasts! This exhibition includes Norman Lindsay's artworks that depict the joy of life in all its spontaneity and foolishness.
The works in Follies and Frolics are full of joyful playfulness and exuberance. Much of the inspiration was Lindsay's love of the legends of the Ancient world.  The gods of Olympus encouraged the mortals to enjoy revels of which later religions disapproved. The festivals were times of light-hearted licentious escapades, for both gods and mortals.
At the family home, Lisnacrieve in Creswick, Lindsay siblings and friends created dress up tableaux that never exactly replicated the ancient festivals. It certainly would have caused, Jane, the staunch Methodist mother, some worrisome times. No doubt the good burgers of the church enjoyed peering through the paling fence as they loudly tut-tutted.
Lindsay read the bawdy writings of Petronius, Boccaccio and Rabelais inspiring him further.
Along with his technical mastery of the mediums Lindsay's humor is obvious. It may be the arch look a rival gives, the interaction between satyrs and mortals or the pleasure of an alfresco gathering.
Follies and Frolics allow us, like Lindsay, to observe entertaining parties of high-spirted merriment. And perhaps to wonder what happed to our invitation!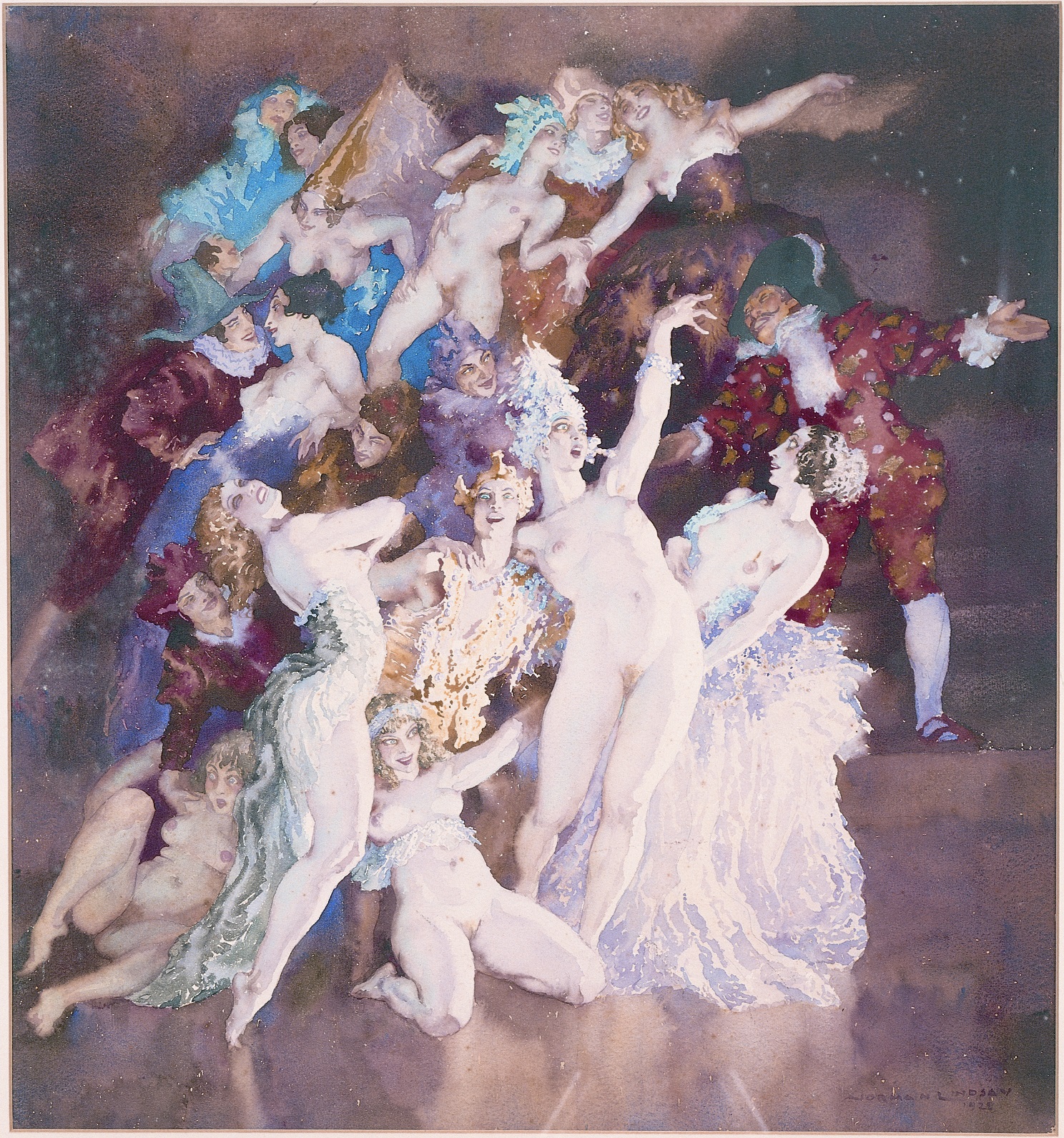 Norman Lindsay
Revel 1928
watercolour
© H. C & A Glad
Exhibition details
Exhibition open 10am – 4pm, Thursday – Monday from Thursday 6 October 2022 – Sunday 19 February 2023.
How to book your tickets
Book via Eventbrite where possible, to guarantee a spot.