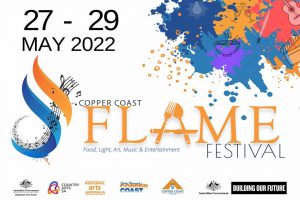 A new and exciting three-day festival showcasing local products and artisans is coming to the Copper Coast in May 2022.
The FLAME Festival, which stands for: FOOD,  LIGHT,  ART,  MUSIC  &  ENTERTAINMENT.
FLAME Festival will be celebrated across Kadina, Moonta and Wallaroo.
The Copper Coast tourism team is relying on the talents of the Copper Coast local groups and artisans to bring life to the FLAME Festival with performances, cultural displays, workshops and many other creative events that will showcase the Copper Coast.
Please contact the Copper Coast Visitor Information Centre on 8821 2333 or email visit@coppercoast.sa.gov.au for more information on the festival.
To book and for the event program please click here.