Cockatoo Island is a source of intrigue and inspiration for visitors owing to its heritage buildings, distinctive terrain and panoramic views.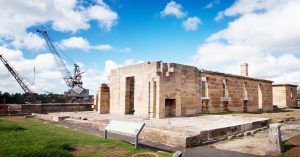 Sandstone buildings and other remnant structures from the island's convict era (1839 to 1869) offer insights into the conditions endured by people who were exiled to Australia and put to work on the colony's ambitious building projects. Meanwhile, the Industrial, Docks and Ship Design Precincts – together with Cockatoo Island's towering heritage cranes – offer a window into the island's storied maritime era (1857 to 1991). The 90-minute Sandstone to Steel tour charts the changing face of Cockatoo Island.
Known in the Dharug language as Wareamah, meaning 'women's land', Cockatoo Island is a former convict penal establishment and naval shipyard. Cockatoo Island provides visitors with a window into Australia's convict era as it features the Nation's only remaining dry dock constructed by convicts as well as buildings and other relics relating to their incarceration.
Tickets: National Trust members $59, general admission adults $64. Click here to buy tickets via Eventbrite.
Enquiries: Email Jane Reynolds via janereynolds@live.com.au
Includes: Morning tea at Societe Overboard cafe & private guided Sandstone to Steel tour of the Island.
Accessibility: The 90 minute walking tour starts at 10:15am and involves a steep incline, steps and some uneven surfaces so it is not suitable for visitors in wheelchairs, walkers or with mobility difficulties. A moderate level of fitness and mobility is required on the tour. Please wear sensible walking shoes.