Join us for an exclusive members-only viewing of our new exhibition, Enquiring Minds: exploration and discovery in colonial New South Wales, at Old Government House.
Located in the upstairs rooms of this World Heritage listed property, Enquiring Minds delves into the eighteenth and nineteenth century voyages of discovery which combined the exploration of the great southern land with scientific advances in navigation, astronomy, mapping, and botanical collecting. It examines how these discoveries added to the knowledge of the world at a time when new theories of evolution were being developed and exotic Australian specimens created a sensation in Europe.
Members will have a chance to hear from the Old Government House Curator, Anna Ridley, about the development of the exhibition and the many exciting discoveries that accompanied this process. You will be taken deeper into the lives of astronomer James Dunlop, explorer Philip Parker King, and botanists Allan Cunningham and George Caley.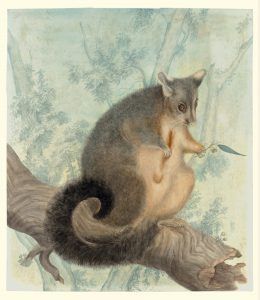 Featured in the exhibition are objects from the National Trust's collection, including the delightful drawing of a possum by Louisa Atkinson. Atkinson described the possum as "The liveliest and perhaps the loveliest of the animals… The possum feeds principally on herbage and foliage and soon attains a most unfashionable obesity."
Louisa Atkinson was a gifted and self-taught botanical collector and artist. Born in 1834 she lived for most of her life at Kurrajong, surrounded by lush forests from which she collected specimens, and drew the plants and animals. She wrote extensively on natural history, corresponding with the top botanists of the day, and published a series of articles in the Sydney Morning Herald. She was a passionate champion of the native flora and fauna of Australia, and decried the destruction of the native forests and the loss of animals.
A ticket to a the members-only viewing includes access to the Enquiring Minds exhibition, a 45 minute tour with the Old Government House Curator, plus light refreshments provided by Lachlan's Restaurant.
Please note that due to COVID-19 restrictions, this free event is strictly limited to 20 people.
Our Curator will present two separate talks to 10 people at a time with those not on the tour able to partake in refreshments at Lachlan's restaurant.
Bookings essential: email ogh@nationaltrust.com.au or phone (02) 9635 8149.
Please bring membership card on the day.