Enquiring Minds is an exhibition which will delve into the eighteenth and nineteenth century voyages of discovery which combined the exploration of the great southern land with scientific advances in navigation, astronomy, mapping, and botanical collecting.
COVID-19 UPDATE: Following NSW Government stay at home orders, Old Government House will be closed until further notice.
This exhibition is on display from 27 February – 28 November 2021, Tuesdays – Sundays, 10am – 4pm (last entry 3:30pm) except public holidays.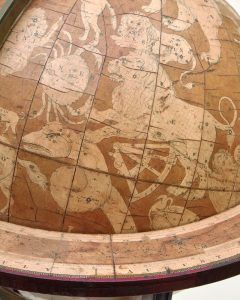 As a government residence, Old Government House was at the centre of these discoveries. When Governor King arrived in 1800, he brought with him the first appointed colonial botanist, George Caley. Caley was based at Parramatta, using Old Government House to dry his specimens, and the old farm at Parramatta to establish acclimatisation gardens for plants going between the colony and England. Many of the first Australian plants grown at the Royal Botanic Garden at Kew, England, were from Caley's seed collections.
Governor Brisbane had a keen interest in using astronomy for marine navigation, and established an observatory in Parramatta Park next to the house, where the first chart of stars in the southern hemisphere was compiled from 1821 – 1825, cataloguing over 7,500 stars. The chart, and some of the instruments used to create it will be featured in the exhibition.
The marine explorations of Mathew Flinders and Phillip Parker King, and the inland explorations of John Oxley added greatly to the European knowledge of the land as they were accompanied by botanists, geologists and naturalists. Although the fabled inland sea was never found, the expeditions of Oxley and those who followed him opened up the country for agriculture and settlement, and had a profound effect on both the land and the indigenous peoples.
Enquiring Minds will examine how these discoveries added to the knowledge of the world at a time when new theories of evolution were being developed and exotic Australian specimens created a sensation in Europe.
The following program of events will accompany the exhibition:
Curator's Talks, fourth Thursday of the month, 2.30pm
Children's Easter Treasure Trail, Saturday 3 April – Sunday 11 April, 10am-4pm
Exploring the Southern Stars, Saturday 5 June, 6pm – 9pm
Riddle Collectors Challenge for Children, Saturday 26 June – Sunday 11 July, 10am–4pm
How Does Your Garden Grow? Celebrating National Science Week, Saturday 21 and Sunday 22 August, 10am-4pm
Botanical Pick and Press Children's Activity, Tuesday 28 September – Sunday 3 October, 10am–4pm
Historic Vines and Classic Wines, Friday 22 October, 7pm-10pm
Please see the event webpages for more details.
Enquiries: Phone (02) 9635 8149 or email ogh@nationaltrust.com.au
Tickets: Book your timed session tickets via Eventbrite.
Please note the exhibition is only accessible via a flight of stairs.
Aspects of this exhibition have been developed in a collaboration between the National Trust of Australia (NSW) and Western Sydney University as part of a research project: Co-designing digitally enhanced cultural heritage experiences, audience and postgraduate student engagement.
The National Trust of Australia (NSW) is grateful for the support provided through this valuable collaboration.