Step back in time with displays of the past and get competitive in a special golden egg hunt at Miss Porter's House this Easter.
Where did Florence Porter hang the washing to dry? A pre-1919 photograph of her husband Herbert in their Newcastle West backyard helped volunteers at Miss Porter's House solve the mystery. See this and other Pictures from the Past and get competitive in a special goldenegg hunt this Easter.
A picture really is worth a thousand words and the many family snaps, prints, commercial photographs and post cards in the Miss Porter's House collection paint a vivid portrait of Newcastle life in the early years of the twentieth century. They tell the many stories of Florence and her daughters Ella and Hazel who lived in the house from 1910, when Florence was a new bride, until the death of Hazel Porter in 1997.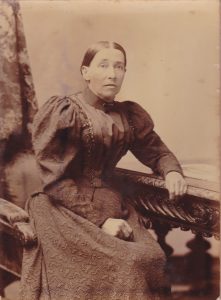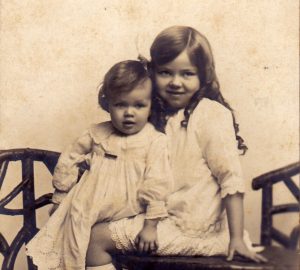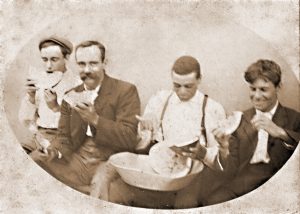 Images: Grandmother Eliza Porter; April Hazel and Ella Porter c1916; Herbert Porter and friends. Copyright National Trust (NSW)
See Herbert celebrating an Eight Hour Day Procession on one of the Porter shop's delivery carts, and enjoying watermelon with friends. Recall one of the many Cottage Creek floods; common in the early twentieth century and which continue to occasionally inundate Newcastle West. Spot the Gas Works Office, all that remains in 2023 of the nineteenth century Steel Street Gas Works which dominated the view from Florene and Herbert's bedroom window. Find Florence's washing line and see Ella and Hazel Porter at Cooks Hill School and posing for one of their first studio photographs.
And the answer to the washing question? Look closely at the photograph and you'll see a shadow cast by the washing line and it's clothes prop.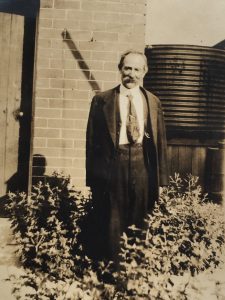 Image: Herbert Porter in his backyard pre-1919. Copyright National Trust (NSW)
Event details
Join the celebrations from 1pm – 4pm on Sunday 9 and Monday 10 April 2023.
How to book your tickets
Book via Eventbrite, where possible, to guarantee a spot.
Get involved with the National Trust (NSW)
Become a member and enjoy many benefits including access to special heritage places in Australia and in over 60 countries. Subscribe to our eNews for the latest heritage news, special offers and events.