Dundullimal is famed for being one of the oldest slab huts in the country, but step behind the façade and discover design and craftsmanship beyond the slab hut.
A humble slab hut from one side, but something altogether different from the other.
A young man, unmarried arrives in Sydney and makes his way to beyond the limits of civilisation with a fortune in his pocket, having purchased the slab hut he began renovations for the new life that would come his way, Aphasia, his bride was just around the corner.
Traveling from Batavia his former experiences there had afforded him knowledge and experience of the advantages of building carefully for hot climates in tropical zones. No tropics to speak of here,  He applied his knowledge and experience and so the additions to the humble slab hut realised a more sophistic and elegant interior in which to live, cool ways, wider halls, boxed ceilings, and fixed cedar louvered French doors opening to cool ways.
Tour the Homestead and hear and see the innovation and love shown to this little slab hut.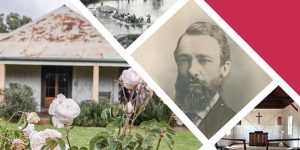 This free event is one of a series of six local history talks organised in partnership between Dubbo Library and Dundullimal Homestead.
For more information contact Dubbo Library on (02) 6801 4510.
How to book your tickets
Tickets are free and are available via Eventbrite.