Featuring the work of three women artists – Bronwyn Oliver, Jennifer Keeler-Milne and Juz Kitson, this is the third (and final) iteration of the Destination Sydney series.
Sydney is a city blessed with an extraordinary natural environment – a beauty that has been defined and refined by the male gaze of artists drawn to this place since the early 19th century. From Martens, Streeton and Roberts, to Rees, Whiteley and Olsen, male artists have successfully driven the process of interpreting and reinterpreting the harbour city while the work of female artists has been comparatively ignored or recognised only in the genres of interiors or still lifes. The new millennium calls for a reconsideration of this legacy and an exploration of the work of women artists in defining the art of Sydney in the 21st century – Destination Sydney: the natural world is a response to this call.
This is the third (and final) iteration of the Destination Sydney series, developed and presented by Manly Art Gallery & Museum, Mosman Art Gallery and S. H. Ervin Gallery. The first two exhibitions featured well known Australian artists whose landscape visions of Sydney changed our perception of the city. This third exhibition now brings the series up to date and showcases a broader range of media to include painting, photography, sculpture and ceramics.
Each of the artists has created works that are synonymous with Sydney in new and innovative ways. The strap line of the exhibition, The natural world, clearly identifies the intention to show artists whose interests are concerned with organic forms, but with the added analytical appreciation and understanding of the environment.
Artists selected for this exhibition at the S.H. Ervin Gallery include Bronwyn Oliver, Juz Kitson and Jennifer Keeler-Milne.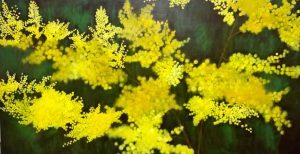 JENNIFER KEELER-MILNE, Spring wattle III  2020, oil on linen 121 x 228cm
How to book your tickets
Exhibition entry is included in a valid S.H. Ervin Gallery entry ticket.
Book via Eventbrite where possible, to guarantee a spot, unless you are redeeming a Service NSW $25 Discover voucher. You are welcome to use your voucher at this National Trust Property when you purchase your tickets upon arrival.
Partners
Proudly supported by Manly Art Gallery & Museum, Mosman Art Gallery, Sydney Festival, Gordon Darling Foundation.