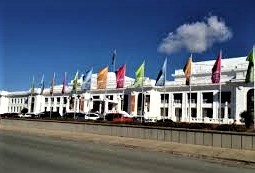 Celebrate the people, places and dates associated with the development of Australia's democracy and our national government.  The sites we visit all show different aspects of our democracy at work, how it works and who makes it work, from ordinary citizens to elected leaders.
.NB As this Heritage Walk is a Canberra and Region Heritage Festival event, bookings will not open until 13 March.
Length and terrain:  This walk is about 4 km and all on paths.  Take care to cross all roads at lights or pedestrian crossings.  Please wear comfortable shoes and a hat. 

Walk leader:  Anna Howe
Bad weather:  Unless otherwise advised by email, the leader will be at the meeting point where a decision will be made as to whether to proceed or postpone.
Cost:  $10
Bookings essential: https://heritagefestivalwalk-democracy-heritage.eventbrite.com.au

Note:  For the comfort and safety of other walkers, we do not allow dogs on our walks.