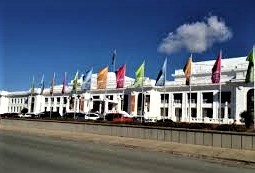 This walk will focus on spaces that have been created in the Parliamentary Triangle in the last 50 years and that show how new directions in our recent democratic heritage have been set down in the buildings and landscapes of the national capital. The places we visit show different aspects of our democracy at work, how it works and who makes it work, from ordinary citizens to elected leaders. The story of the buildings in the Triangle is one of many controversies, and the spaces between them have also been contested sites of short term or lasting protest. We will discover spaces that are unique to Canberra compared to the other new world capitals of Washington and Ottawa, and explore how new spaces might celebrate the on-going developments in our identity, nationally and internationally. We discover seven versions of our Coat of Arms with different representations of our national emblem, the golden wattle. With no golden wattle currently growing in the Triangle, we look for some spaces where it might grow in future.
This Heritage Walk is a Canberra and Region Heritage Festival event.
Meet:  in front of Old Parliament House
Length and terrain:  This walk is about 4 km and all on paths.  Take care to cross all roads at lights or pedestrian crossings.  Please wear comfortable shoes and a hat. 

Walk leader:  Anna Howe
Bad weather:  Unless otherwise advised by email, the leader will be at the meeting point where a decision will be made as to whether to proceed or postpone.
Cost:  $10
Bookings essential: https://heritagefestivalwalk-democracy-heritage.eventbrite.com.au

Note:  For the comfort and safety of other walkers, we do not allow dogs on our walks.