This workshop will introduce you to etching using traditional techniques.
Learn techniques used in traditional etching such as applying hard ground to a copper plate like Norman Lindsay did in the 1920s.
User friendly materials are used in the etching process including a mordant that does not emit harmful fumes and each stage of the etching process is shown and supervised.
After processing your plate, you will be taught how to 'ink up' and create your own unique prints on specialised etching paper, using different colours and tones.
This is a nurturing experience where you will be inspired by the venue and its history – even the original press that Rose Lindsay used to print the editions will be the one you use to print your work on.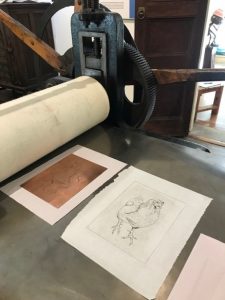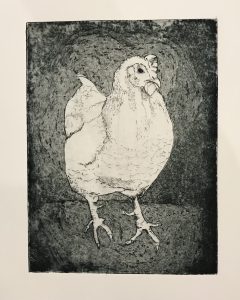 Image: Student Taylor's copper plate etchings
The workshop will run from 10am – 3pm, with a 45 minute lunch break. A complimentary viewing of the gallery or walk in the grounds is included between 3 and 4pm.
Ticket cost includes all materials needed for the workshop. Lunch is not supplied.
How to book your tickets
This event is now sold out.
Important Information for Visitors
The health and safety of everyone is our biggest priority. By purchasing a ticket, you agree to our Terms & Conditions of Entry.
Please keep your ticket safe, as you will be asked to present your ticket at point of entry. You can do this by either printing a copy or displaying a digital version on your selected device.