Join the National Trust Tours Committee for an exclusive guided tour of the newly built Coal Loader Centre for Sustainability; a former industrial site with an interesting history which opened in 2011. Learn about this history and see for yourself why it's won prestigious awards after its transformation into one of Sydney's largest publicly accessible green roof spaces.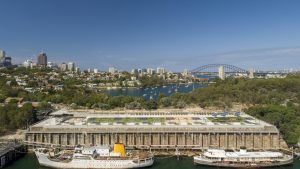 It operated for over 70 years from the early 1920's, primarily as a transfer depot for coal from bulk carriers. Dedicated as public open space in 1997, it was later transferred to North Sydney Council in 2003. The Coal Loader now features a sustainability retrofitted cottage, wetlands, community gardens, a native bushland nursery, historical tunnels, Aboriginal engravings, the platform green roof, regenerated parklands and a beautiful bushland reserve next door. The tour will finish in the cafe with a delicious morning tea, included in the price.
Tickets (booking essential): $45 National Trust members / $50 general admission adults
Bookings/ enquiries: Jill Bunning 0439 321 164
Meet at the Coal Loader office, 2 Balls Head Drive, Waverton (10 minute walk from Waverton Station – limited parking outside the Coal Loader)
With regards to COVID-19, the tour company will comply with all the relevant requirements during all tours, they will ensure appropriate distancing, provide hand sanitiser and check with venues to ensure they are adhering to the rules.