Join us to unlock and explore nature's impact on the creation of ceramic objects as part of the Botanicals exhibition at Experiment Farm Cottage.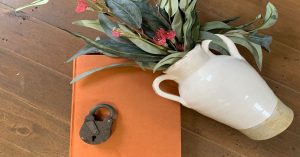 Join us for a special curatorial talk on Sunday 12 September where we will unlock and explore nature's impact on the creation of ceramic objects. As part of the Botanicals exhibition, some of National Trust's most intricate, floral-patterned ceramics will be on display accompanied by gorgeous floral displays.
For centuries, humans have designed ceramic objects that reflect our love of plants and the natural world. We value this connection by placing ceramics in our work-a-day world to brighten our lives and remind us of our relationship to our environment.
Similarly, early European settlers in Parramatta brought ceramics from their homelands that depicted their connection to the botanical and natural environment of the northern hemisphere. As the Europeans settlers explored their new environment, artists embraced the glorious colour and richness of Australia's flowers – reflecting their new environment through the creation of intricate ceramic objects.
Botanicals will open our eyes to beauty and colour – and the wonder of our natural environment through the glorious ceramic objects found in the National Trust's collection which depict botanical elements. Photography is welcome so please bring along your camera to capture some rarely seen pieces on display.
Enquiries: Please email Rosalind Mearns via ogh@nationaltrust.com.au or phone 02 9635 8149.
Bookings will be made available via Eventbrite closer to the event.
Botanicals is running on the second and fourth weekend of the month from Saturday 28 August until Sunday 14 November, 2021 at Experiment Farm Cottage.
Limited parking is available on site with additional parking on Alice Street and Ruse Street.
Botanicals is presented in conjunction with the Enquiring Minds exhibition at Old Government house on now and running until November 28.
Photography by Katrina Dubé, copyright National Trust (NSW).