The Schools Reconciliation Challenge exhibition 'Caring for Country' is a selection of artworks and writing by school students inspired by First Nations peoples' understanding of Country.
157 students from both primary and high schools from NSW and the ACT have created beautiful and diverse works that capture young people's appreciation and support for Aboriginal and Torres Strait Islander peoples' methods of caring for Country. The National Trust is proud to display these important traveling works at select properties throughout New South Wales, showcasing the artwork of school students as they interpret the spirit of Reconciliation.
In Australia, First Nations people have cared for Country for over 60,000 years, maintaining Country by using a wide range of strategies, knowledges and technologies to manage land, water and resources to ensure that Country is cared for now and for generations to come.
When we use the term 'Country' we are referring to the specific areas of land, sea and sky with which Aboriginal and Torres Strait Islander Peoples and communities have a custodial, cultural and spiritual relationship. 'Country' is capitalised as a proper noun to acknowledge the significance of Aboriginal and Torres Strait Islander Peoples' relationships to Country and aspects of the way in which First Nations People think about, speak about and relate to Country.
"The land is the mother and we are of the land; we do not own the land rather the land owns us. The land is our food, our culture, our spirit our identity" Professor Dennis Foley, Gai-mariagal and Wiradjuri man.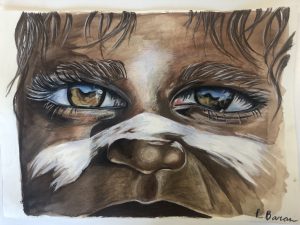 Image: Ochre Eyes by Lili Baran, Winmalee High School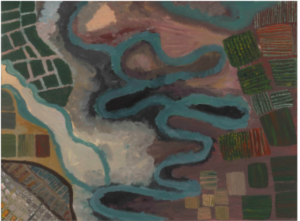 Image: River to Mildura by Dameke Harris, Kade Harris-Wilson, Neil Johnson, Robert Kerwin, Nicholas King, Year 7, Wilcannia Central School
Artists Statement: Students of Wilcannia Central School worked collaboratively to represent the colours of the land of Mildura. The Baaka (Darling River) connects Wilcannia to the Murray River and to Mildura. We are Paakantji (river people) and the Baaka (river) is our lifeblood. The River gives life to all the people and land in Mildura and along the Murray and Darling Rivers; We need to save the Baaka.
How to book your tickets
Please check the specific property pages below for full details of facilities, ticket costs and opening days/times for each location. Next dates and locations:
Proud to partner with
Reconciliation NSW. Learn more via: schoolsreconciliationchallenge.org.au