The two buses, 'Cherry' and 'Peach', are now fully booked and a waiting list applies.
Cherry will head off from Canberra at our usual time (7.30am from Deakin and 7.45am from Lyneham) up the Barton and Hume Highways and Burley Griffin Way. We will have a cuppa and toilet stop in Harden. Then it's on to Young.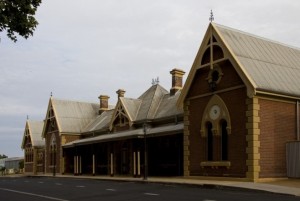 Young is a major inland town that grew up around a paddock known as Lambing Flat on the Burrangong Goldfield. Established in early 1860, the Burrangong field drew in thousands of European and Chinese miners. From November 1860 through to June 1861 anti-Chinese miners attacked Chinese gold miners in the area, now known as the infamous Lambing Flat riots.
We will be met by our guide, Stuart Maxwell, at the Young Visitor Centre located at the heritage listed Young Railway Station. For the next hour and a half Stuart will guide us around Young, showing us its history and heritage.
After lunch at the Young Services Club, the bus will take us to heritage listed 'Iandra Castle' (aka Mt Oriel Homestead) where we have a talk about the history on arrival then a self-guided tour of the house and gardens.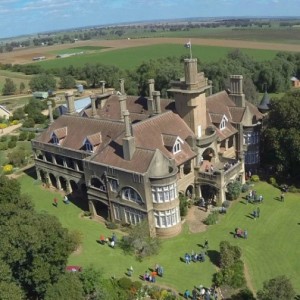 The property is on the State Heritage Register which states: "The Iandra Homestead Pastoral Estate, originally established by George Henry Greene from 1878-1911, is of outstanding significance as arguably the largest and most progressive wheat property and wheat farming enterprise of its time in Australia. The vast estate of approximately 3,000 acres (1215 ha) comprises a magnificent Federation homestead, park-like gardens, original workers cottages, managers residence, blacksmith, chapel and cemetery, wool and hay sheds, silo, other outbuildings, associated structures, and surrounding farmland."
After afternoon tea, we will board the bus for the return to Canberra via Boorowa. We aim to arrive back about 6pm.
Peach will do the tour in reverse, ie, morning tea in Boorowa, visit Iandra, lunch in Young, tour of Young and return home via Harden. The only difference will be that lunch in Young for 'Peach' will be later than for 'Cherry'. Both buses will depart from Deakin and Lyneham at the same time.
Cost: $85 (members) $95 (non-members) – includes bus, entry to Iandra, morning tea and afternoon refreshments and a two course lunch at Young Services Club.
Enquiries and bookings: T: 02 6230 0533 E: info@nationaltrustact.org.au When booking please specify Deakin or Lyneham as your pick up point, and any dietary restrictions.
Cancellation Policy for Tours
Where a place can be filled through a waiting list etc., full refund will be given.
For $25 local tours refund if 7 days prior to tour date less 10% for admin fees. Otherwise credit can be held over for a forthcoming tour.
One day coach trip: refund if 7 days before tour date less 10%. If 3 days prior 50% refund. No refund closer than 3 days except under exceptional circumstances