Richlands, a footnote in the renowned history of Captain John and Elizabeth Macarthur and their family, was established as an outstation a day's ride west of the Macarthurs' main residence at Camden Park. The homestead is situated 50 km north of Goulburn, 30km due west of Bowral and 10 km north of Taralga, at the junction of Oberon and Wombeyan roads.
Under the control of the Macarthur sons, the estate was at its most extensive in the early 1840s and comprised 38,000 acres of prime grazing land including the present township of Taralga and all farmed country to the north. Grain, wool and tobacco were produced with Richlands wheat fetching premium prices in Sydney.
This is your chance to visit the property and learn about exploration, settlement, contact history, the estate, butter factory, Macarthur era orchard and drive, the late Georgian building and its relation to other Macarthur properties.
After lunch in Goulburn we will uncover interesting sites in the back streets with John Jervis who previously guided our enjoyable Towrang and Bungonia bus tours. He will point out old cemeteries, old stables, churches and police barracks.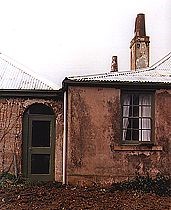 Departure at 7.30am at Deakin behind shops on Macgregor St or 7.45am from Southwell Park near netball courts on Northbourne Ave, Lyneham.
Lunch, morning and afternoon teas included. Please advise any dietary requirements.