Between Friends documents the friendship between artist Margaret Coen and Norman Lindsay. The exhibition features a wonderful selection of watercolours and oils by Margaret Coen, and a sampling of the letters between her and Lindsay.
COVID-19 UPDATE: Following NSW Government stay at home orders, Norman Lindsay Gallery will be closed until further notice.
This exhibition is open Thursday – Sunday (10am – 4pm) until 13 September 2021.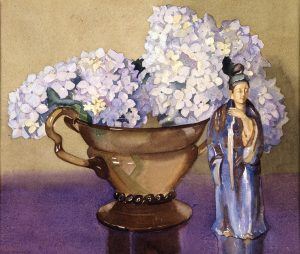 The letters were selected from an extensive correspondence between the two that is held in the State Library of New South Wales. Initially lovers, Coen and Lindsay remained close friends for almost forty years. Although chosen because of their individual subject matter and not forming a sequence, the letters can never-the-less be regarded as an extended conversation between friends.
As well as Coen's artwork, the exhibition includes portraits done by Lindsay of Coen, her husband, the poet Douglas Stewart and their daughter Meg, and many photographs of the two artists together during their long friendship.
After viewing the exhibition visitors are welcome to explore the beautiful bushland gardens that wrap around the heritage-listed house museum.
We recommend that all visitors reserve tickets to attend the property via Eventbrite.